THANKS FOR MAKING SUCH A GREAT PRODUCT!
"It was two and a half weeks after I put it out. It rained 4 days in a row and this was after the rain. I didn't refresh the scrape in 3 weeks. Thanks for making a great product!"
Jordan Edwards
Archery Manager
Would recommend to anyone.
Yes product arrived in good shape.
Was exactly as described.
Put it in low traffic area and saw more deer there than previous years.
Overall was very pleased with product. Would recommend to anyone.
- Nicholas
- Centralia, MO

Odin's Innovation's products kept these bucks around all season. Highly recommended.

Mike Ruddle
President, Central Plains Outfitter's
Central Kansas
Look at this beast that showed up the one day I chose to stay home. 😠Grrrrrr. I can't believe I'm still getting pics every day and night at a almost two month old Mock scrape. I haven't added to it or anything. Not only that but in the 7 years I have been hunting my little 10 acres, I have never seen the quality of mature bucks here ever. Don't get me wrong I have always had a few little guys come around but the studs coming in to this scrape are like nothing that has ever stepped in from of one of my Cams
I used the pellets during the 2016 season and had great success. I saw more smaller bucks throughout the season using the lure. I am sure this attractant helped me collect this fine buck in 2016.
Dec. 22nd (2018) in Alabama. "…biggest buck by far I have ever seen around here. Thank u so much for your product!"
-Chris from Silverhill, AL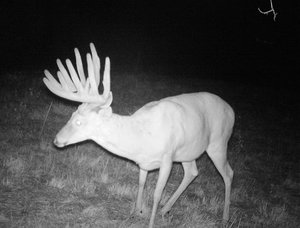 Would recommend to anyone.
"I used the estrus attractant during the 2016 season and had great success. I used them later in the season (during the rut) and saw many more bucks in my area than previous years. Odin's Innovations attractant helped me harvest this great buck; it was my largest in 60 years of deer hunting! Now I am spoiled and let the smaller bucks walk, waiting for another big buck to show up in my hunting spot."-John, Overland Park, Kansas
I saw a significant increase in the traffic of bucks.
"After using both the estrus and buck scrape versions of the attractant, I saw significant increase in the traffic of bucks around my stand. The attractant are long-lasting, something the cameras placed on the attractant recorded again and again. I would see new bucks tending scrapes I'd made myself for days, even a week or two after the attractant were put out. I've never had such a good sense of what bucks were around my hunting areas!"
-Father Nick, Emporia, Kansas
"We have tried others with limited success. Wherever we set it up, the deer showed up; even deer we didn't even know were on the property. It is the only thing I ever used that I have confidence in."
- Doug, SW Missouri
"I have been using your attractant for a couple of weeks and have some results to share – I have been very pleased. This is the first visit this larger buck is making to the site where the attractant were dropped."
-Odin's Innovation's early adopter